Manufacturer:
Category:
Commercial Trench Drains
Part Name:
Dura Slope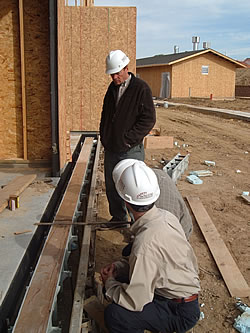 The Dura Slope trench drain system consists of neutral and pre-sloped sections of trench drain. Manufactured from HDPE with UV inhibitors, this trench drain offers a durable alternative to concrete channel that will save time and reduce cost at installation. The system consists of 4-foot channel sections including 24 pre-sloped channel sections and 9 neutral channel sections. The sloped channel sections enable the system to extend to a length of 96 feet with a continuous slope.



NDS Dura Slope is a 6 5/8" wide, 4-foot-longtrench drain system with a built-in slope of 0.7%. The Dura Slope Trench Drains are made of a high quality structural foam polyethylene and the trench drain system has a built-in slope to naturally assist with drain flow. The NDS Dura Slope is an economical alternative to traditional polymer concrete trench drain systems, while offering simple installation.
These products are used to collect runoff water and transfer it to an underground drain pipe which then transfers the waste water to street curbs, storm water sewers, drainage ditches or other runoff areas.
The NDS Dura Slope is ideal for foundations, tennis courts, swimming pools, driveways, dog kennels, garages, marinas, saunas, spas, patios, hot tubs, nurseries, golf courses, gas stations, loading docks, warehouses, tracks and so many more applications.
PDF Specs
Features
Interlocking tongue and groove joints for secure alignment and easy installation
Low weight of product allows it to be installed by only one person
Less parts and lower installation cost than polymer concrete trench drains
Duraloc intergral joint lock to prevent joint movement
Counter directional fall up to 194 ft., up to 266 ft. with neutrals added.
No extra screws or clamps needed at installation
Lightweight sections for easier handling and lowered freight costs
Blank grate inserts eliminate need for plywood
Sloped and Non-sloped sections with bottom outlets offers system versatility
Decorative grate options
Up to Class D traffic rating
Universal catch basin

Call 800-277-5015 to place your order for Dura Slope!