Manufacturer:
Category:
Commercial Trench Drains
Part Name:
FP800 FP1200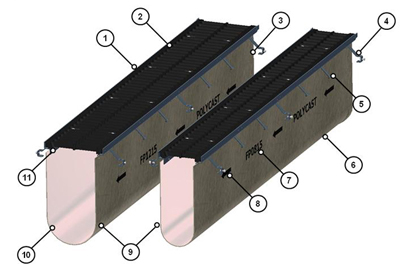 The POLYCAST® FP800 and FP1200 are the ideal solution for high volume flow situations such as airports, roadways, and seaports. Designed with the installer in mind, this revolutionary design incorporates full 360° interlocks and prefabricated turns and tees to minimize installation time.

The drain is available in 8" and 12" widths and comes in both 4' and 8' lengths for maximum flexibility. Flow rates of up to 6700 GPM can be achieved over 120' of continuous 1% slope. Grates are available to meet DIN load classes C through F. Three separate grate options are available for each size that exceed FAA AC150/5320 loading criteria for airports, and all grates meet or exceed AASHTO M-306 loading criteria for roadways.

Typical Applications
Highways
Airports
Ports & Shipyards
Rail Terminals
Factories
Refineries
Fire Stations
Military Bases
Gas Stations
Parking Lots & Garages
Loading Docks
Forklift Areas
PDF Specs
Installation Instructions
Features
360° interlock for up to 20% faster assembly
120' of 1% continuous slope
Fiberglass walls are up to 80% thicker than the competition
Grates have inlet flow of up to 80% more than the competition
Unique grate design means that you don't sacrifice flow capabilities for additional strength
Flow rates of up to 6700 gallons per minute are possible
Positive lock rivets attach channels to frame and will NOT pull out
Direction arrows and channel numbers ensure correct installation
Marine grade gel coat provides UV stability and excellent wetted surface features
Vented frame rails prevent air entrapment which can cause weakening of the slab and premature failure

Call 800-277-5015 to place your order for FP800 FP1200!