Manufacturer:
Category:
Commercial Trench Drains
Part Name:
600 Series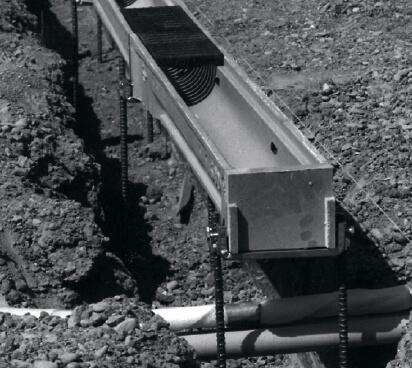 The POLYCAST® 600 Series Pre-sloped System is ideally suited for a variety of commercial and industrial applications.

With the proper components, flow rates of 470 GPM per outlet are attainable. The precast trench sections and grates are made up of 2' and 4' lengths. Certain 4' channels and all half channels have 4" bottom cut-outs for pipe connections.

Typical Applications
Shopping Malls
Sidewalks & Walkways
Parking Lots & Garages
Athletic Complexes
Loading Docks
Kennels
Hotels
Swimming Pools
Wineries
Grocery Stores
PDF Specs
Installation Instructions
Features
Rapid, accurate installation
Aligns channels
Sets elevation
Tightens joint
Reduces leakage during concrete placement
Prevents channels from floating during pour

Call 800-277-5015 to place your order for 600 Series!