Manufacturer:
Category:
Commercial Trench Drains
Part Name:
FLO-THRU Z886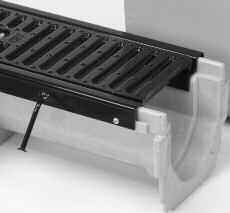 Zurn Commercial Trench Drains
USA Configurable
Zurn Z886 6" [152 mm] wide pre-sloped trench drainage system. High density polyethylene structural composite drain channel with .75% bottom slope. All sections are 80-inch modular lengths with integral top frame, inter-locking ends and radiused bottom. Combination tie-down/leveling devices at 20-inch intervals. Furnished with heavy-dutyDura-coated cast iron grate unless otherwise specified.
Typical Applications
Highways
Driveways
Kitchens
Pools
Parking Lots
Gas Stations
Airports
Airplane Hangars
Industrial Parks
Chemical Plants
Food Processing
Shopping Malls
Industrial Plants
Pharmaceuticals
Amusement Parks
PDF Specs
Features
80" Modular Channel Sections with 20" Grates
.75% Built-In Slope – Handles greater flows, uniform slope.
Radiused Bottom – Better flow rate, less solids build-up.
Smooth High Density Polyethylene Structural Composite Interior – 0% water absorption.
Durable and Lightweight – Strong corrosion-resistant material.
Extra Long Runs – Sidewall extensions allow pre-slope runs longer than 120 feet.
Variety of Gratings
Grate Options – Available in H-20, FAA, ADA. See pages 22-23.

Call 800-277-5015 to place your order for FLO-THRU Z886!