Manufacturer:
Category:
Pool Deck Drains
Part Name:
Mini Klassic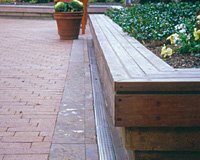 A 2" internal width system for high profile, aesthetic applications where a barrier is required to separate wet and dry areas. DIN 19580 does not cover grates for 2" (50mm) internal width trench drains, but grates have been load tested in accordance with DIN 19580 guidelines.

specs


Features
2" internal width trench system - meter (39.37") channels. 'U' shaped bottom improves flow hydraulics.
Choice of grates in various materials and styles (including ADA compliant) for applications from Load Class A to Load Class C.
Integrally cast-in galvanized steel edge rail provides additional strength and protects the channel edge from damage. (Stainless steel edge rail also available).
1.5" Sch. 40 drill-out allows vertical evacuation at male end of channel at any point along the run.
Interconnecting end profiles allow easy and effective joining of channels. Appropriate sealant can be used to create a sealed joint.

Call 800-277-5015 to place your order for Mini Klassic!