Manufacturer:
Category:
Pool Deck Drains
Part Name:
SpeeD Drain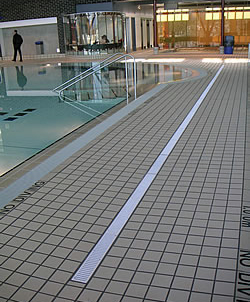 For residential and non-residential applications, the Spee-D Channel provides a quick and simple alternative to traditional concrete channels. The Spee-D Channel System snaps together easily for a smoother installation, and with channel grates available in six colors, the grate can be matched to the surrounding surfaces.

With a wider grate opening than the Micro and Mini Channels, the Spee-D Channel System has an open surface area of approximately 19.30 square inches per foot. The most popular applications for this channel include swimming pools, spas, and patios.



PDF Specs
Features
Durable polyolefin parts are lightweight and easy to install
Component parts snap together easily for a speedy installation
System components are chemically resistant and rust proof
UV inhibitors in the grates, channel and component parts prevent fading and cracking from the sun
Connect easily to sewer and drain pipe and fittings or SCH 40 pipe and fittings

Call 800-277-5015 to place your order for SpeeD Drain!