Manufacturer:
Category:
Commercial Trench Drains
Part Name:
Hydrotec Top Trench Drain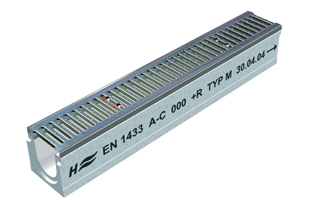 The TOP trench drain line is a modular system for pedestrian areas, parking lots, general commercial areas and sport fields. These 4" wide trench drains are available in 39.37" (1000mm) and 19.69" (500mm) long, flat or pre-sloped and they are easily joined together by connecting male and female profiles.

Typical applications
Sport Facilities and Stadiums
Cycle paths and footpaths
School yards
Car parks
Hydrotec Top Trench Drain Specs
Features
Screwless, patented locking system that reduces installation time
Reduces time of installation
Available flat and presloped
Galvanized Steel Slot ADA
Galvanized Steel Mesh
Ductile Iron
Load Class A & C
High Water Absorption
Fiber-reinforced concrete C35 / 45 channel
Galvanized Steel edge rail
Precast outlet at the base of the channel to connect 4" and 6" pipes

Call 800-277-5015 to place your order for Hydrotec Top Trench Drain!