Manufacturer:
Category:
Commercial Trench Drains
Part Name:
Hydrotec Mini Trench Drain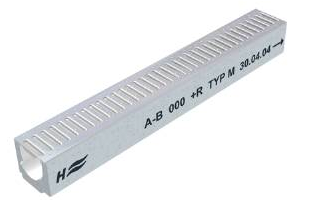 The MINI trench drain line is a simple modular system for uncomplicated D.I.Y. installation. These 4" wide flat trench drains are available in 39.37" (1 meter) and 19.69" (0.5 meters) long and they are easily joined together by connecting male and female profiles. Each channel section has a precast vertical outlet for 4" pipes. Available with galvanized steel slot ADA and galvanized steel mesh grates that provide a neat transition from the trench drain to the adjoining road surface.

Apart from use in private and leisure areas, the MINI trench drain is also suitable for sports fields, pedestrian areas, courtyards and car parks. The grates are held firmly in the channels, avoiding jamming between the adjoining surfaces. The use of natural building materials guarantees environmental friendliness.

Typical applications
Sports Fields
Shopping Malls
Pedestrian Areas
Domestic Driveways
Hydrotec Mini Trench Drain Specs
Features
Fiber- Reinforce Concrete C35/45
Male and female channel profiles for easy fitting
Galvanized Steel Grates
Available in SLOT and MESH Designs
Load Classes A and B
Easy to Install
Practical system for easy D.I.Y. installation
Precast vertical outlet to connect 4" pipes in each section
Edge rail incorporated in the grate

Call 800-277-5015 to place your order for Hydrotec Mini Trench Drain!