Manufacturer:
Category:
Commercial Trench Drains
Part Name:
Hydrotec Maxi Trench Drains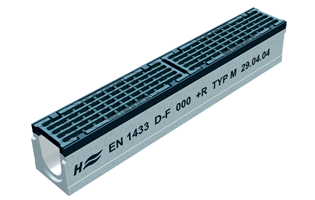 The MAXI trench drain system is ideal for heavy duty jobs thanks to its ductile iron edge rails and grates. With a choice of load classes C, D, E, or F, the MAXI system excells at projects requiring the maximum resistance and load bearing capabilities.

These 4", 6", 8" or 12" wide trench drains are available in 39.37" (1000mm) and 19.69" (500mm) long and they are easily joined together by connecting male and female profiles.

Typical applications
Roads and Highways
Industrial areas with heavy goods traffic
Car parks for heavy good vehicles
Loading and unloading areas
Airports
Race circuits
Public traffic area construction
Hydrotec Maxi Trench Drain Specs
Features
Screwless, patented locking system that reduces time of installation
Channels available in 4", 6", 8" and 12" wide
Available flat (all sizes) and presloped (4" and 6" only)
Ductile Iron Grates
Available in ADA and Heel Proof
Longitudinal or Cross Slots
Load Class C, D, E and F
High Water Absorption
Fiber-reinforced concrete C35 / 45 channel
Ductile Iron Edge Rails
Precast outlet for a vertical connection to 4" and 6" pipes.
Connecting male and female profiles for precise fit

Call 800-277-5015 to place your order for Hydrotec Maxi Trench Drains!