Manufacturer:
Category:
Commercial Trench Drains
Part Name:
PolyDrain Poly Trench Drain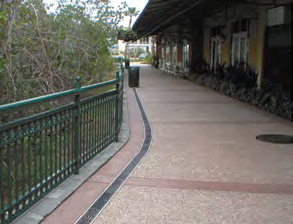 Poly Drain trench drain systems are the optimal choice for a very wide range of surface drainage applications. The precast PolyDrain trench drain system gives the ultimate in flexibility, accuracy, and even can lower labor costs with an easier installation. The strength, temperature and chemical resistance, and low level of aborption are what puts PolyDrain systems above the competition.
ABT, Inc. is the industry leader in modular drain systems for both industrial and commercial use. ABT manufactures PolyDrain trench drains; the standard for pre-engineered trench drains. Over the years the PolyDrain name has become synonymous with trench drain design. Architects and engineers, recognizing the benefits of pre-engineered polymer concrete trench drains, specify PolyDrain for a wide variety of applications. Included among these applications are food processing plants, airports, highways, loading docks, garden centers and chemical processing plants. PolyDrain polymer concrete trench drain assures the specifier of the precision and accuracy required to satisfy hydraulic or chemical resistant demands. PolyDrain offers design flexibility, as well as ease of installation. In addition, expensive labor and material costs associated with handforming methods are eliminated.
PolyDrain channels are a nominal meter (39.19 in., 3.27 ft.) long. Standard channels have a 0.6% built in slope. The 30 standard channels are positioned sequentially in numerical order from 010 to 300, creating a continuously sloped channel run. Channel runs can be designed with intersections or miters and fabricated onsite utilizing commercial grade cutting tools. With PolyDrain, runs of almost any length are possible by varying outlet placements, integrating non-sloping channels and using PolyWall Sidewall Extensions for increased depth.
ABT offers two compositional formulations for PolyDrain channels, depending on the effluent and chemical environment. Both offer superior strength and durability as well as marked cost advantages over alternative materials.
Standard PolyDrain channels are manufactured from PolyDyn®, an advanced formulation of selected quartz aggregates and inert mineral fillers bonded together in a high-grade polyester resin. This formulation is suitable for use in both exterior and interior applications.
When a higher level of chemical resistance is required, ABT offers PolyDrain in a special formulation called PolyChampion®, which has the same quartz and mineral fillers as the PolyDyn formulation, but with a premium grade vinylester resin binder. This formulation will withstand a broader range of corrosive salts, fuels, acids and alkalis.

ABT PolyDrain PDF Specs
ABT PolyDrain Installation Instructions


Features
Pre-Sloped Radius Channels - Standard PolyDrain channels have a built-in 0.6% slope with a smooth radius bottom and a narrow cross section. These features provide excellent hydraulic efficiency. Without any site slope, a 3.5 feet per second velocity is obtained when the channels are flowing full.
Anchoring Ribs - PolyDrain channels are formed with fulllength anchoring ribs on each side of the channel at the base of the side wall. These anchoring ribs provide a positive mechanical lock with surrounding concrete.
Interlocking Joints - PolyDrain channels have interlocking tongue-and-groove joints that serve two important functions. First they aid in maintaining proper channel alignment during the pour. Second, they assist in securing channel connections to prevent fluid migration out of the system. ABT maintains a line of sealants that can be applied to channels when a sealed system is required.
PolyLockTM Inserts - PolyDrain channels feature RedDot® polyethylene inserts or GreenDot® polypropylene inserts. These inserts, together with the grate locking devices comprise the PolyLock grate lockdown system. RedDot inserts also provide vibration dampening that helps keep grates secure under traffic conditions.
UL-723 Classified mark for Class A fire rating

Call 800-277-5015 to place your order for PolyDrain Poly Trench Drain!