About Dumoore Systems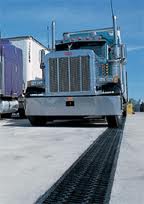 DuMoore Systems is a supplier of surface drainage systems; pre-cast and custom fabricated trench drains, catch basins, area drains and a variety of cast iron, steel, aluminum, plastic and fiberglass gratings. Our modular trench drain systems offer many advantages over traditional trench drains. They have superior chemical resistance. Their simplified installation techniques save time and money. And the uniformity of the finished product is unparalleled. Almost any design configuration can be met with these versatile systems.
For the past twenty five years, clients have utilized our products in many residential, commercial and industrial projects, such as car and truck service facilities, tennis courts, waste water treatment plants, ports, driveways, pools, zoos, animal clinics, airports, food and chemical processing plants, truck docks and road construction, just to name a few applications.
At DuMoore Systems we offer design assistance at no cost to our customers.
DuMoore Systems maintains a large inventory and most orders will ship the same day.
Give us a call. We would like to "DuMoore" for you!
Drainage Solution Manufacturers: ACO Polymer Products, Zurn, ABT, Vectordrain, Mea Josam, Meadrain, Meaeasy, Pro-Plus, Watts, NDS, Multidrain, Polycast, Polydrain, Trench Former, Hexadrain, Brickslot, Dura Slope, Sani-Flo, Dura-Trench, Gatic, Aquaduct, Perma-Trench, Flo-Tru, Mifab, Dead Level, JR Smith, Riverside Steel, Neenah Foundry, White Cap, Sports Edge, Tuff-Tite, Highway Drain, KlassicDrain, McNichols, Blucher, Quartz by ACO, Mearin, Traffikdrain, Markant, PaverGrate, Polyduct, Polyself, Interceptor, Slab Drain, Driveway Drain, Slot Drain, PowerDrain, MiniKlassic, FlowDrain, Meadrive