Manufacturer:
Category:
Commercial Trench Drains
Part Name:
ChemDrain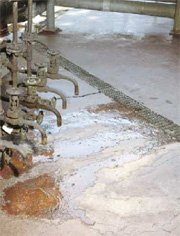 ChemDrain provides solutions for use in chemically aggressive environments. The interconnecting Vinyl ester polymer concrete channels come in sloped and neutral depths. A full range of accessories complete the system. A choice of grates in different materials, slot configurations and load ratings are available and can be secured into the channel by one of ACO's patented boltless locking devices - QuickLok or PowerLok.

C100/CH80/CH100 has no metal edge rail, is suitable for loadings up to Class C, and is ideal for use in areas where no metals can be used (plastic grates are available for such applications).

CK100S/CH80K/CH100K has a stainless steel edge rail and is suitable for loadings up to Class E.

CS100K/CH100SK has a ductile iron edge rail and is suitable for loadings up to Class F.

Typical applications
Containment areas
Chemical plants
Processing plants
Laboratories
Wash down areas
C100 Specs
CK100S Specs
Installation Instructions
Features
Sloped (0.6%) channel units - meter long units provide 98'-5" continuous slope. Neutral units can be used to extend run lengths.
Wide choice of grates in various corrosion resistant materials. C100 - applications from Load Class A to Load Class C (see Loadings). CK100S - applications from Load Class A to Load Class E (see Loadings) C100 - polymer concrete grate seat and edge ideal for situations where metals cannot be used. Due to edge detail, ACO rates Load Class C only - regardless of grate loading.
QuickLok on C100 and CK100S - provides quick fitting and removal of grates, helps reduce installation/ maintenance time and cost.
CK100S - Integrally cast-in stainless steel edge rail provides additional strength and protects the channel edge from damage.
Profiled side walls - strengthening pillars and frost keys provide channel body strength and mechanical keying to concrete surround.
PowerLok on CS100K - patented, boltless locking system provides quick fitting and removal of grate. Helps reduce installation/maintenance time and cost (see PowerLok)
CS100K Ductile iron grates - heavy duty ductile iron grates in choice of slotted or ADA compliant to Load Class F (see Loadings)
Direction arrows on the sides of the channel indicate flow direction and ensure channels are installed correctly.
CS100K - Integrally cast-in ductile iron edge rail provides maximum strength and protection for the channel body.
CS100K 'Anti-shunt' lugs - recesses in grate fits around lugs on the edge rail to prevent longitudinal movement of grate.
SF Sealant Groove - a 5/16" by 5/16" groove is cast into the female end of every channel. This groove allows for a positive bead of flexible sealant to be inserted at joints.
4" internal width trench system - meter (39.37") and half meter (19.69") channels. 'U' shaped bottom improves flow hydraulics.
Vinyl ester polymer concrete - a durable highly chemically resistant material made from Vinyl ester resin binder reinforced by quartz aggregates and silica fillers (see Materials)
Interconnecting end profiles allow easy and effective joining of channels.
Bottom drill-outs are included on all meter and half meter channel units to allow vertical evacuation of system along run. Drill-outs are sized for 4" or 6" Schedule 40 pipes. Note: For the 6" drill out an oval to round adapter will be required (Part # 95140).

Call 800-277-5015 to place your order for ChemDrain!