Manufacturer:
Category:
Commercial Trench Drains
Part Name:
UK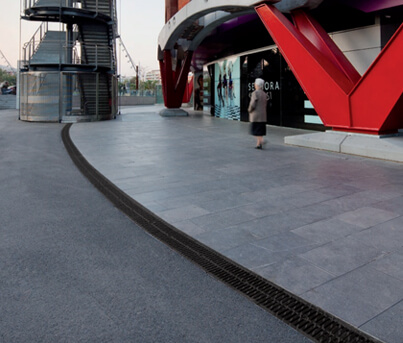 The ULMA UK Channel drains is a medium duty drain with out a side edge, and are intended for use from pedestrians to sporadic traffic, They have greater heights than the SELF and Mini systems. They also have the choice of built-in slopes and galvanized steel. Highly recommended in the case of finishing off with concrete or asphalt pavement.

Channels without slope, with continuous and/or cascaded slope, provided with galvanized reinforcement profile, embedded in the channel, which also facilitates the execution on site and proper finishing of the adjacent pavement.

This system allows the use of gratings of up to load class C250, suitable for areas with transverse passage of vehicles, such as housing estates and car parks for light vehicles.

ULMA Linear Drainage Channel type U100K: External width 130mm; Internal width 100mm; Available with overall heights between 130mm and 250mm for 0,5% presloped channels and between 150 and 300 mm for cascaded slope, to collect rainwater in 1 metre long units; Integrated galvanized steel edges for lateral protection. Locking system consists of CS100 locking bar and screws.


Installations
The ULMA Architectural Solutions drainage system has been designed and tested under the strictest premises of EN1433 STANDARD, following the construction details set out in these installation instructions.
The design of the deck adjoining the concrete block/channel unit (concrete, asphalt or paving stone) must be endowed with the expansion and retraction joints required to prevent any tangential or perpendicular strain on the concrete block and channel unit. In line with the construction details of the deck, the sizing of said joints will be decided by the Project Management or designer.
The illustrations below show what the appropriate installed section should be for each flooring type and type of load as well as the recommended construction details.
Typical applications
Housing estates
Pedestrian Accesses
Car Parks
Squares
Sports Fields
Urban Areas
Light car parking lots
Pipes
ULMA UK Specs
Features
Medium Duty Channel Drain
A15-C250
With Screws
Galvanized steel lining makes the system suitable for use in areas of heavy vehicle traffic.
Lining in stainless steel is available by request.

Call 800-277-5015 to place your order for UK!