Manufacturer:
Category:
Commercial Trench Drains
Part Name:
Sport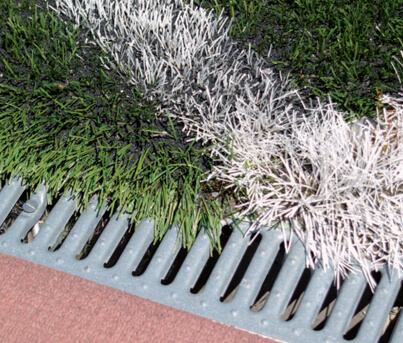 The ULMA Sport Channel drains is a sports drainage channel specifically developed for sports grounds and associated infrastructure, such as shower rooms, indoor and outdoor pools, running tracks etc.

ULMA Linear Drainage Channel type M100V: External width 155mm; Internal width 100mm and overall height 80mm to collect rainwater in 1 metre long units. Locking system consists of 2 screws per metre.




Installations
The ULMA Architectural Solutions drainage system has been designed and tested under the strictest premises of EN1433 STANDARD, following the construction details set out in these installation instructions.
The design of the deck adjoining the concrete block/channel unit (concrete, asphalt or paving stone) must be endowed with the expansion and retraction joints required to prevent any tangential or perpendicular strain on the concrete block and channel unit. In line with the construction details of the deck, the sizing of said joints will be decided by the Project Management or designer.
Typical applications
Football fields
Athletic fields
Showers
Dressing rooms
Beach pools
Running tracks
Recreational areas
ULMA Sport Specs
Features
Sports Channel Drain
Up to load class C250

Call 800-277-5015 to place your order for Sport!